Van Ruiten Vineyards 'Old Vine' Zinfandel 2007 $16.95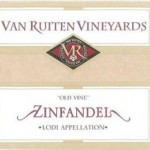 Overview: After years of playing second fiddle to the so called "King" Cabernet, Zinfandel has finally become trendy, and in Lodi is the undisputed champion among champions. This Zinfandel fruit was hand selected from the first vineyard John Van Ruiten planted over 50 years ago and is among the families most prized grapes. Our 2007 Old Vine Zinfandel is packed full of blackberry, cherry and blueberry jam with barrel flavors contributing aromas of coffee, cedar, and finishing with anise.
Grapes: Zinfandel
Region: Lodi Appellation – California

Leitz 'Eins Zwei Dry' Riesling Trocken 2008 $14.95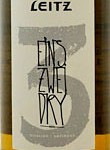 Overview: This bottling comes from the Rosenberg vineyard in neighboring Geisenheim, long famed for its rose-scented Rieslings. In recent years, this site just hasn't had a great grower working it. Johannes has leased a winery just below the vineyard to give him more space to work, and with the winery came old vines on the steepest section of this vineyard. In years to come we may once again hail the Rosenberg for the great site it is! A wonderfully dry but not mouth searing style of Riesling for those who love the delicate attributes of the noble riesling varietal but aren't keen on any residual sugar.
Grapes: Riesling
Region: Rheingau – Germany