Shepherds Ridge Sauvignon Blanc 2009 $14.95

This crisp, mouthwatering New Zealand white has an irresistible lemon and lime flavor with enticing gooseberries, herbs and peaches combined together on the palate. It's difficult to resist a second glass. While dry, this wine is deliciously rich
Rabbit Ridge Le Lapin Multiplicity (Non-vintage) $6.95
"Le Lapin" is French for rabbit. It is also the name of a new line from bargain meister Rabbit Ridge Winery of Paso Robles, CA.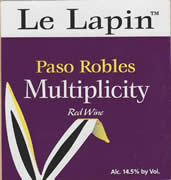 It is believed it is a blend of Zinfandel, Syrah and Petite Sirah. It is a plump, juicy red full of black cherry, blackberry, a little plum with spice notes.